2021 QX50
$
439
/Mo.
$
1.9%
APR
/Mo.

Please contact Sheehy INFINITI of Chantilly for latest lease and finance offers.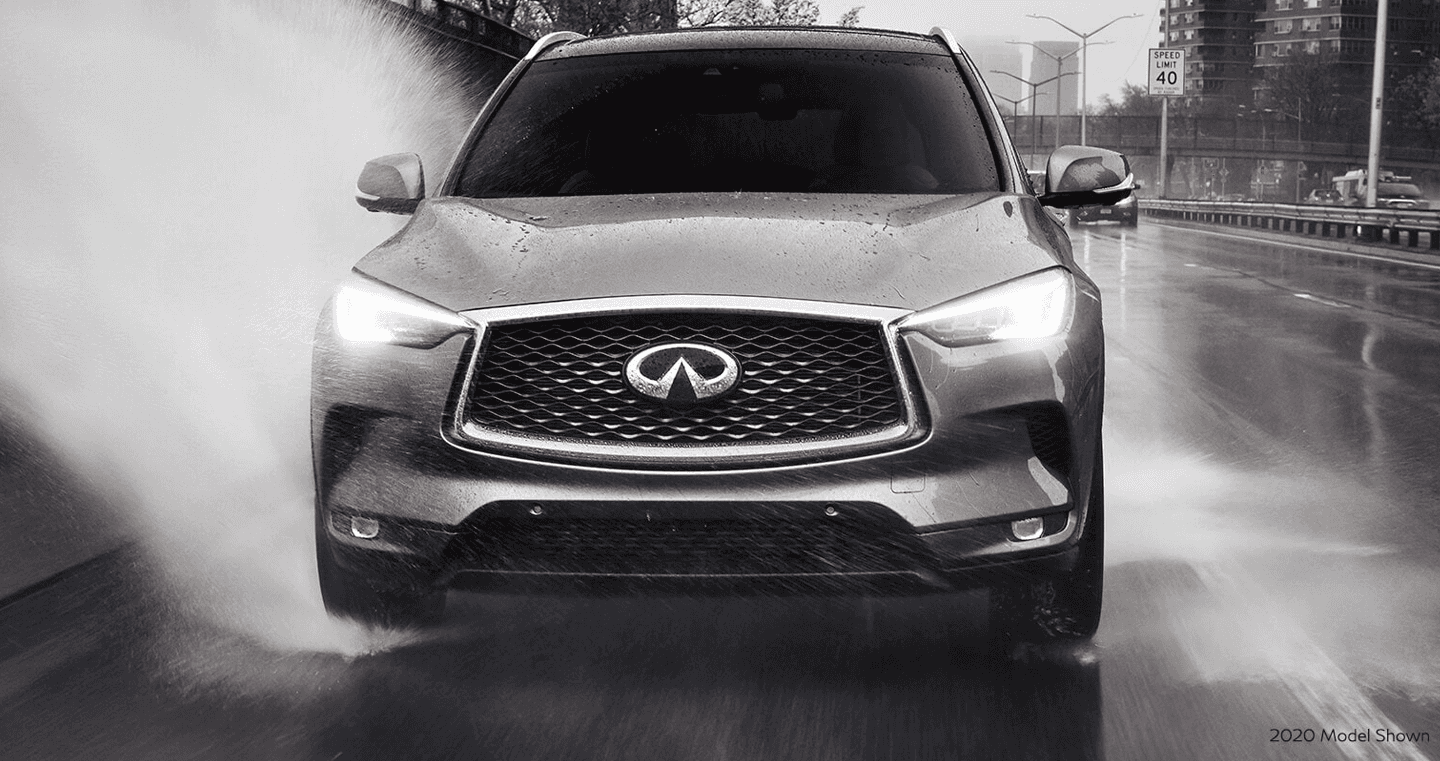 ---
PERFORMANCE
VARIABLE COMPRESSION TURBO ENGINE
HAVE IT ALL
Like two engines in one, the 2021 QX50's 2.0L World's First production VC-Turbo 4-cylinder engine automatically transforms at key moments during your drive to provide optimal performance and efficiency. The exceptional design of QX50's VC-Turbo is the result of 20 years of INFINITI engineering and innovation.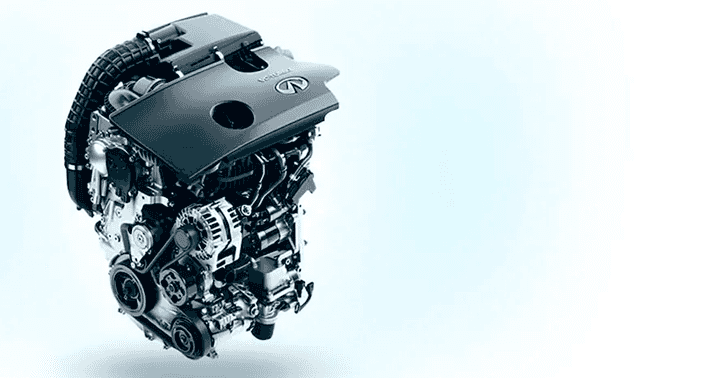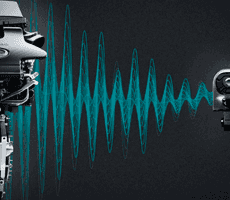 ACTIVE TORQUE ROD QUIET STRENGTH
QX50's Active Torque Rod helps eliminate engine noise and vibration during acceleration. Positioned on the upper engine mount, Active Torque Rod can isolate and dampen engine harshness and noise by counter-balancing vibrations. Enjoy smooth engine operation, even during acceleration.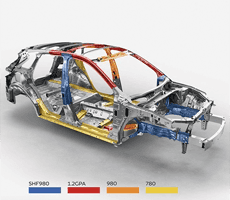 THOUGHTFUL MATERIALS BALANCED CONTROL
INFINITI's suspension platform is purpose-built with select metals to provide the best combination of strength, weight and safety potential. Using aworld-exclusive 980Mpa tensile strength steel, the platform affords the QX50 a solid foundation for ride comfort, noise reduction, balanced handling and passenger protection.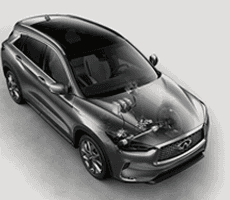 DIRECT ADAPTIVE STEERING™DIRECTIONAL PRECISION
INFINITI's exclusive Direct Adaptive Steering™ technology eliminates the constant movement of traditional mechanical designs. The system can automatically adjust and digitally enhance steering input from the driver up to 1,000 times per second providing incredible precision and control, and a unique, customizable feel for the road.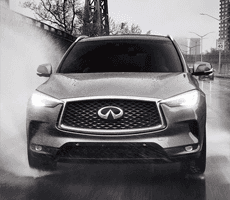 INTELLIGENT ALL-WHEEL DRIVE POWER WHERE YOU NEED IT
Intelligent All Wheel Drive instantly adapts to changing conditions. Wheelspin, throttle, and speed are monitored and up to 50% of the available power can be sent to the rear wheels for better traction. When AWD isn't needed, fuel efficiency is at its best.*
---
INNOVATION
TECHNOLOGY
THE FUTURE OF DRIVING
The value of technology lies not in what you can do with it - but what it can do for you. With this in mind, QX50 is specially designed with driver assistance technologies, including the optional ProPILOT Assist, available on Luxe grades and higher. The future of driving is not letting go, it's expanding your control.*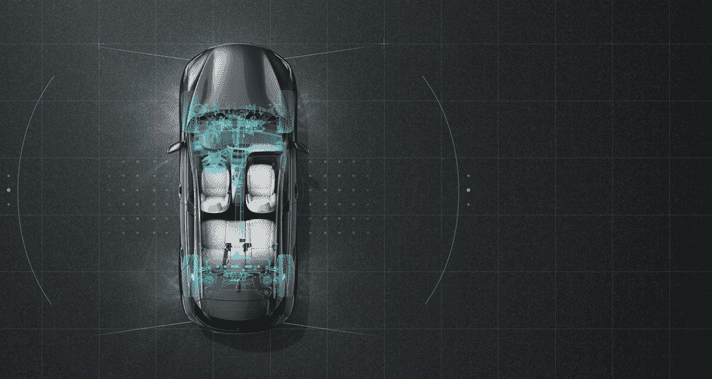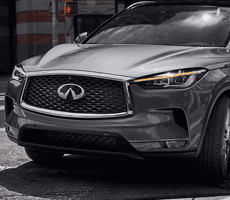 FOR A MORE POWERFUL DRIVE ProPILOT Assist
At the core of QX50's driver assistance technologies is the optional ProPILOT Assist, available on Luxe grades and higher. The combination of Steering Assist and Advanced Intelligent Cruise Control helps ease the fatigue and frustration that come from lengthy highway travel. Once activated, the optional ProPILOT Assist uses a combination of radar and optical systems to monitor the vehicle ahead of you and the lane markers. This feature helps keep QX50 centered in its lane and a set distance from the traffic in front of you - even around slight curves.* *

THE BIGGER PICTURE
Confident control comes from more than a single technology. It's the result of a suite of INFINITI's innovations designed to empower drivers.
Forward Emergency Braking with pedestrian detection scans for potential frontal collisions with pedestrians or the vehicle in front of you. It can help brake in an emergency to help avoid a frontal collision.*
The available Steering Assist feature is a technology that can help you by making small steering corrections for you by identifying the lane markings and helping center QX50 in the lane.
The available Advanced Intelligent Cruise Control feature monitors speed and distance for you by automatically adjusting your speed, along with the ability to adapt to a full speed range in traffic. Auto-resume can be activated to move the vehicle back into motion following a stop, if needed.*
The standard Lane Departure Warning and available Lane Departure Prevention features combined can provide warnings, and can even intervene should you begin to drift out of your lane.* *
The available Distance Control Assist feature keeps an eye on what's in front of you and helps to maintain distances set by the driver by pushing back the acceleration pedal when the vehicle ahead is closer than the preset distance.*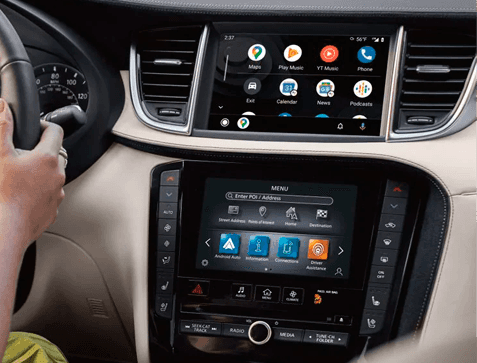 Android Auto™
The right information for the road ahead. Android Auto™ is a simpler way to use your compatible smartphone in your car.*
With larger touch targets, a simplified interface and easy-to-use voice actions, it's designed to minimize distractions so you can stay focused on the road.*
Use Android Auto™ by connecting your compatible smartphone via USB to your compatible INFINITI to access your favorite apps right on your INFINITI InTouch™ display. To use Android Auto™ on your phone screen, you'll need an Android™ phone running 5.0 (Lollipop) or higher, not connected to your INFINITI, and the Android Auto™ app.*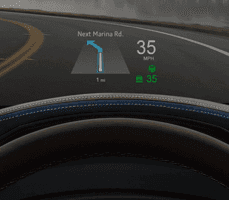 HEAD-UP DISPLAY SEE WHAT MATTERS
Originally developed for fighter jets, QX50's available Head-Up Display feature projects a semi-transparent readout of key information onto the lower windshield. With important details like speed, navigation and warnings closer to your field of view, paired with the Traffic Sign Recognition feature, it's easier to stay aware without distraction.*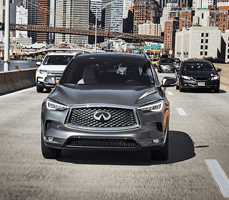 HELPING YOU SEE WHAT'S AHEAD
Using a forward facing radar and camera, QX50's Forward Emergency Braking with Pedestrian Detection and Predictive Forward Collision Warning technologies can provide drivers with early warnings of a frontal collision and can even help bring your vehicle to a stop to help avoid or lessen the impact of a collision.* *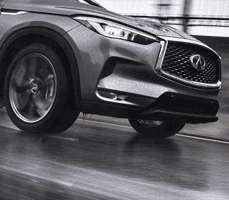 SEES WHAT YOU CAN'T
The QX50's standard Lane Departure Warning and available Lane Departure Prevention features can help warn drivers, and even intervene if drift occurs. Additionally, Blind Spot Warning and the available Blind Spot Intervention® systems help alert you of vehicles detected in the blind spot area before and during lane change.* * * *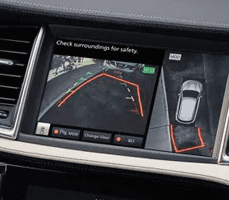 Around View® MONITOR WITH MOVING OBJECT DETECTION PANORAMIC AWARENESS
The available INFINITI's innovative Around View® Monitor uses four vehicle-mounted cameras to provide a bird's-eye view of the car and its surroundings when parking. Moving Object Detection helps alert you to moving objects detected in front, behind or beside your vehicle.*
HIGH BEAM ASSIST THE RIGHT LIGHTS
Avoid blinding other drivers with the help of the standard High Beam Assist. It automatically dims the high beam headlights when it detects an approaching vehicle or spots a vehicle driving in front of you, leaving you to concentrate on the drive.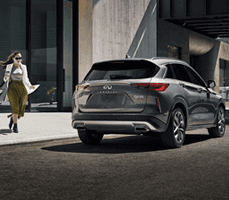 REAR PARKING SENSORS PARK WITH CONFIDENCE
The rear parking sensors allow you to maneuver in even the tightest of spaces by delivering an audible warning when the back of the vehicle approaches a stationary obstacle.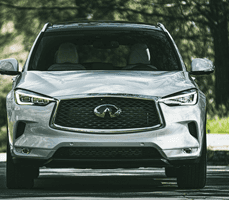 AUTOMATIC COLLISION NOTIFICATION & EMERGENCY CALL GET HELP WHEN YOU NEED IT
In the event of a collision, the Automatic Collision Notification feature can connect you through a hands-free voice call to a live Response Specialist who can request emergency services or call your emergency contacts if needed. Press the SOS button to be connected to a Response Specialist, available 24/7.*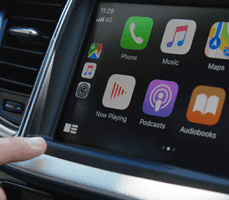 Apple CarPlay® INTEGRATION
Apple CarPlay® is the smarter way to enjoy the things you love with your iPhone®. Access Apple Music®, Apple Maps®, make calls, send and receive messages – all hands-free. Just plug in your compatible iPhone® and go.*
---
DESIGN
DRIVER-CENTRIC, YET PASSENGER MINDED
THE JOURNEY WITHIN
Elegant surfaces and a driver-focused design come together to form the well-appointed QX50 interior. Featuring a generous selection of carefully balanced materials, the QX50 cabin creates an exceptionally calming environment for every drive.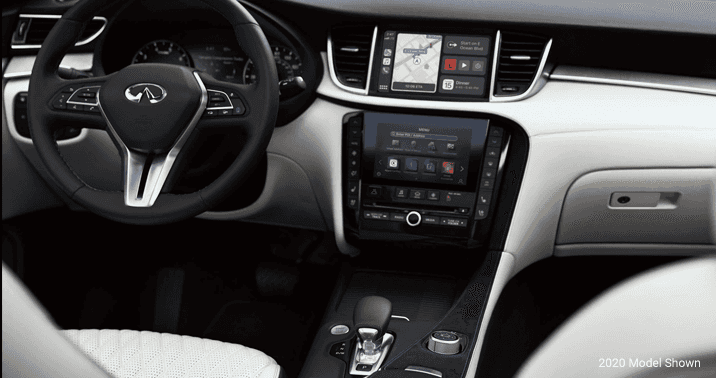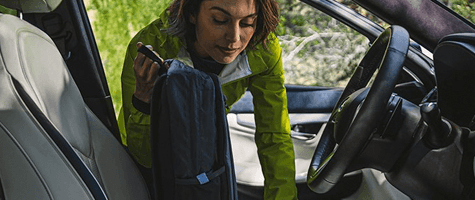 ARTISTIC COMFORT DESIGNED AROUND YOU
The QX50 cabin treatment brings together thoughtful ergonomics with indulgent textiles to craft an exceptionally calming interior space. Built with a unique driver-focused geometry, the cabin's harmony of supple leathers, wood accents and tailored stitching adds artistic comfort to every mile of your drive. The revolutionary VC-Turbo engine's powerful yet compact footprint allowed the entire cabin to move forward — revealing more interior space in the process. Combined with its premium slide and tilt rear seating, QX50's new cabin design provides more room for passengers and cargo.* *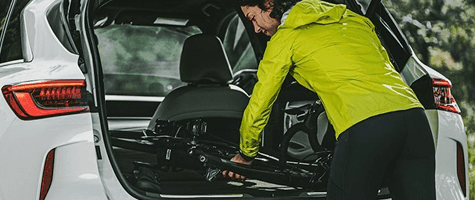 CARGO SPACE ACCOMMODATING ALL YOUR NEEDS
QX50's combination of a tall hatch opening, low load floor height, large cargo space and a hidden under-floor bin lets you carry almost anything you desire. You can even fit a full-size stroller lengthwise without letting down the back seats and still have room for other items.*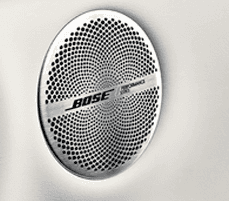 BOSE® 16-SPEAKER PERFORMANCE SERIES AUDIO A CHORUS OF EXCEPTIONAL SOUND
The available Bose® Performance Series Audio System with Advanced Staging Technology includes genuine aluminum speaker grilles to add even more refinement to the QX50 interior. With 16-speaker sound array, you'll experience true concert-like audio across a beautifully wide, professionally tuned soundstage.*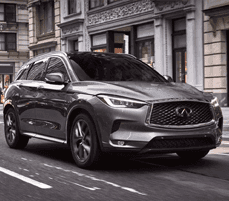 POWERFUL ELEGANCE COMMANDING EXTERIOR
Muscular lines flow with profiled surfaces to create a body that is as strong as it is stylish. This dynamic design offers a wider stance and cabin forward silhouette, as QX50 presents a purposeful profile and strengthened visual character.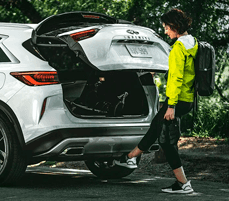 MOTION ACTIVATED LIFTGATE DISCOVER HANDS-FREE ACCESS
The QX50's standard power liftgate is enhanced with optional motion awareness sensors, meaning you never have to fumble with your keys again. Simply raise your foot under the rear bumper and the vehicle automatically opens the rear liftgate. Whether you think it's science or magic, you'll wonder how you ever lived without it.*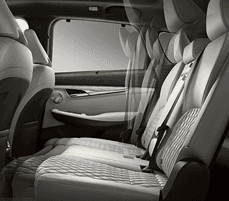 REAR SEAT SLIDE AND RECLINE FIRST CLASS TRAVEL
Enjoy front row comfort, even in the back. QX50's sliding and reclining second-row brings adjustability to all passengers, no matter where they sit. Combined with premium materials, tailored construction, andcomfort-focused support, QX50 gives everyone the best seat in the house.*
---
SAFETY
BLIND SPOT WARNING AND BLIND SPOT INTERVENTION®
THE PERFECT BLIND SPOT PRESCRIPTION
The standard Blind Spot Warning helps alert you to vehicles in the blind spot area when driving, while the available Blind Spot Intervention® actively assists you back toward the center of your travel lane if you begin to move over.* *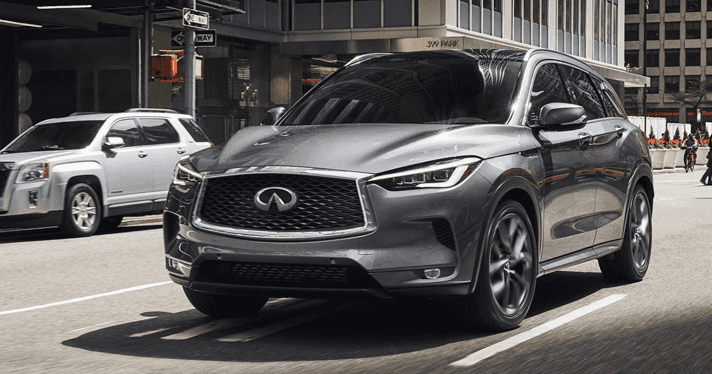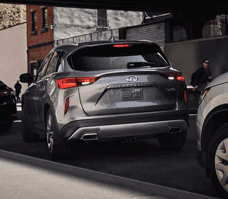 Around View® MONITOR WITH MOVING OBJECT DETECTION GAIN GREATER PERSPECTIVE
An INFINITI World's First, Around View® Monitor with Moving Object Detection helps make parking easier. Four cameras positioned around the QX50 work with cutting-edge technology to build a virtual 360° bird's eye view on your display. Moving Object Detection alerts the driver to moving objects detected within the display image.*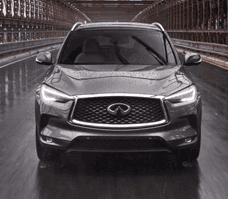 PREDICTIVE FORWARD COLLISION WARNING FORWARD THINKING DETECTION
This breakthrough INFINITI technology senses the distances between you, the vehicle in front of you, and the next vehicle in front of them. It helps provide added reassurance for stressful highway driving and city traffic alike.*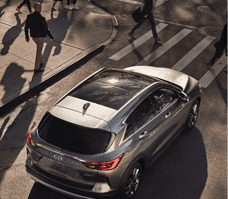 FORWARD EMERGENCY BRAKING WITH PEDESTRIAN DETECTION ALWAYS SEVERAL STEPS AHEAD
INFINITI's innovative Forward Emergency Braking with pedestrian detection measures the speed and distance between you and the vehicle in front of you. Along with its ability to help detect pedestrians, this standard system can provide an audible and visual warning to help the driver identify a potential frontal collision. If the brakes are not engaged after the warning, your QX50 can partially or fully apply the brakes to help avoid a collision.*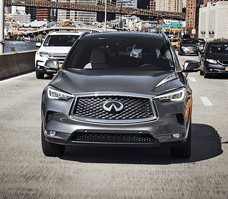 LANE DEPARTURE WARNING ALWAYS IN COMMAND
Lane Departure Warning utilizes a camera to monitor the distance between the vehicle and lane markings. If the vehicle drifts unintentionally towards the lane markers, the system can provide an audible warning.*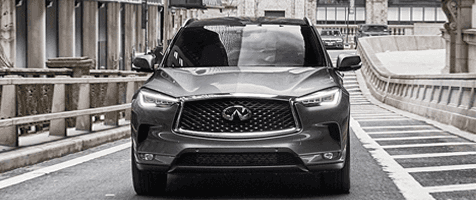 REAR CROSS TRAFFIC ALERT
The Rear Cross Traffic Alert system will assist you when backing out from a parking space. When the vehicle is in reverse, the system is designed to detect other vehicles approaching from the right or left of the vehicle. If the system detects cross traffic, it will alert you. Available Rear Automatic Braking monitors the area directly behind your INFINITI for stationary objects you might not see. If you fail to stop, it can automatically engage the brakes to help avoid a rear collision or lessen the severity of an impact. Rear Automatic Braking cannot prevent all collisions and may not provide warning or braking in all conditions. Driver should always turn and check surroundings before driving. See Owner's Manual for safety information.*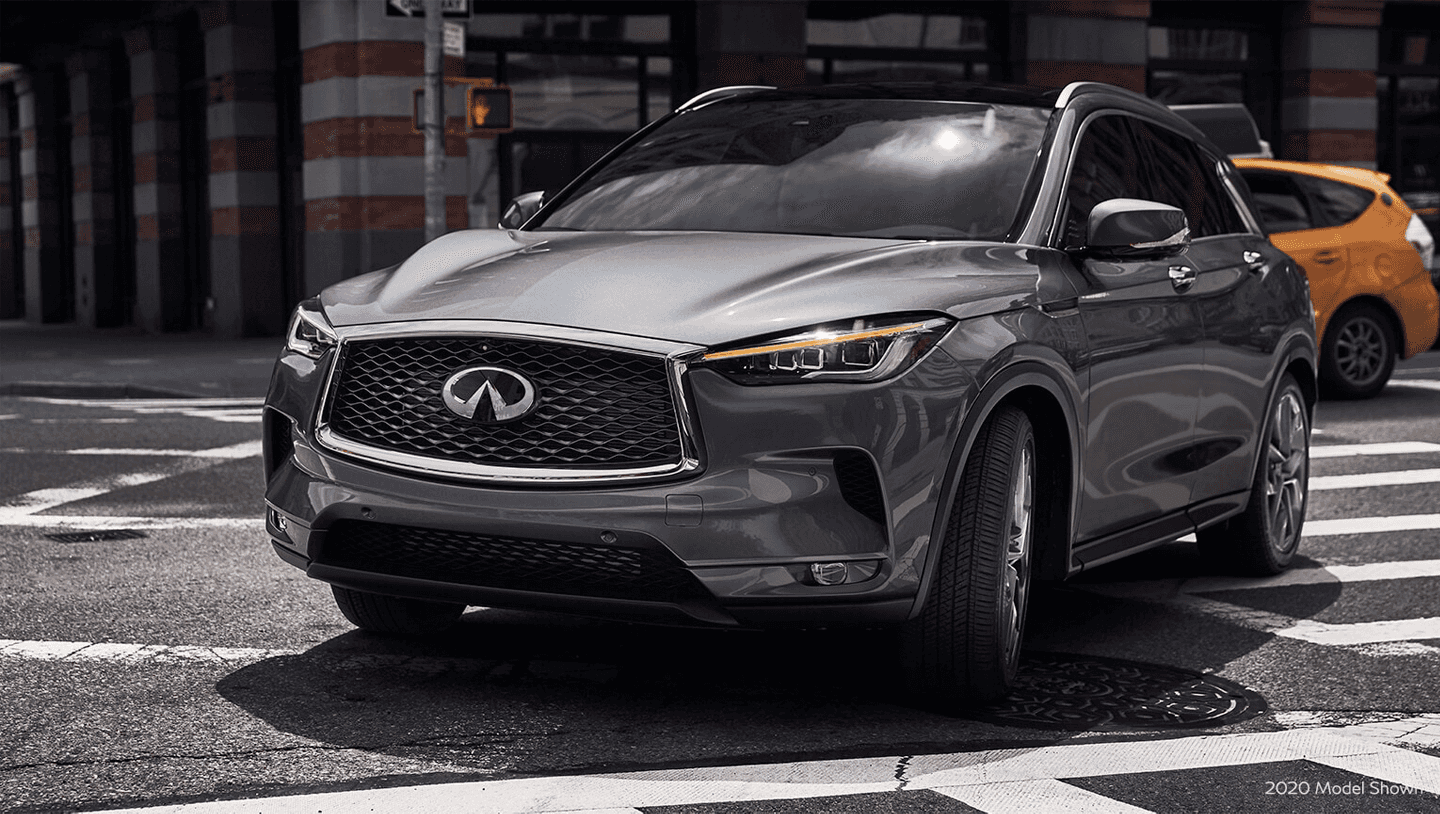 2020 INFINITI QX50

QX50 PURE
268-HP 2.0-liter VC-Turbo engine 23/29 City/Highway MPG*
Starting at $37,950*

QX50 PURE AWD
268-HP 2.0-liter VC-Turbo engine 22/28 City/Highway MPG*
Starting at $39,950*

QX50 LUXE
268-HP 2.0-liter VC-Turbo engine 23/29 City/Highway MPG*
Starting at $41,500*

QX50 LUXE AWD
268-HP 2.0-liter VC-Turbo engine 22/28 City/Highway MPG*
Starting at $43,500*

QX50 ESSENTIAL
268-HP 2.0-liter VC-Turbo engine 23/29 City/Highway MPG*
Starting at $44,700*

QX50 ESSENTIAL AWD
268-HP 2.0-liter VC-Turbo engine 22/28 City/Highway MPG*
Starting at $46,700*

QX50 SENSORY
268-HP 2.0-liter VC-Turbo engine 23/29 City/Highway MPG*
Starting at $50,000*

QX50 SENSORY AWD
268-HP 2.0-liter VC-Turbo engine 22/28 City/Highway MPG*
Starting at $52,000**
QX50 AUTOGRAPH
268-HP 2.0-liter VC-Turbo engine 23/29 City/Highway MPG*
Starting at $54,200*

QX50 AUTOGRAPH AWD
268-HP 2.0-liter VC-Turbo engine 22/28 City/Highway MPG*
Starting at $56,850*